READY FOR A DIFFERENT TYPE OF HEALTHCARE?
Functional wellness addresses the

underlying reason

you feel the way you do — instead of just managing symptoms
COME IN FOR AN

$87

INITIAL CONSULTATION
Functional Wellness is for you if...
You want to address the underlying cause of your health concerns

You want to utilize natural methods whenever possible

You want to be empowered and educated

You are tired of a "disease model" of healthcare and are looking for a more natural approach

You don't want to rely on medication or are tired of side effects
Dominika M. Hertsberg DC, E-RYT, CES
Dr. Hertsberg is committed to empowering her patients to experience their optimal health potential through education, fitness, nutrition, hormones and stress management. She specializes in prenatal and postnatal care as well as high performance functional movement rehabilitation and yoga based therapies. Dr. Hertsberg graduated from National University of Health Sciences and is a board certified and licensed chiropractic physician, certified acupuncturist, nutrition coach and a yoga teacher.
Dr. Hertsberg is passionate about empowering individuals by teaching them about their health and wellness and volunteers at Salt and Light Coalition where she works with women who were victims of sex trafficking and abuse. Previously, she volunteered at Community Health Center in Chicago where she provided free healthcare to those without insurance. She worked at the University of Illinois with children affected by Autism Spectrum Disorders and served on the board of Chicago Autism Speaks. While in school, she worked in a prenatal and postnatal group at Lutheran General Hospital where she utilized chiropractic techniques and yoga therapy to treat her patients. Dr. Hertsberg enjoys educating the community through seminars and lectures. She leads yoga teacher trainings, fitness workshops and has been invited to be a key speaker at major conventions.
When Dr. Hertsberg is not treating patients or volunteering, she likes to keep active and enjoys hiking, practicing yoga and traveling with her family.
Dr. Lee is a board certified and licensed chiropractic physician and certified acupuncturist specializing in natural health optimization. He has a passion for fitness, mind-body wellness, hormone optimization and biomechanics. His goal for his patients is to keep them living at their highest health and function free to pursue all the life activities that they desire.
​Dr. Lee received a Bachelor of Biomedical Sciences and Doctorate of Chiropractic from the National University of Health Sciences where he graduated as valedictorian for both degrees. He also holds a Master of Science in Acupuncture and is an Experienced Registered Yoga Teacher (E-RYT) through Yoga Alliance and a Corrective Exercise Specialist (CES) and Performance Enhancement Specialist (PES) through National Academy of Sports Medicine. He also has a long history of involvement in movement arts and body work including martial arts, yoga and Thai massage.
​In his personal time, he enjoys cooking healthy meals for his family, yoga, and working out. When not treating patients he also leads lectures, workshops and trainings for yoga and anatomy.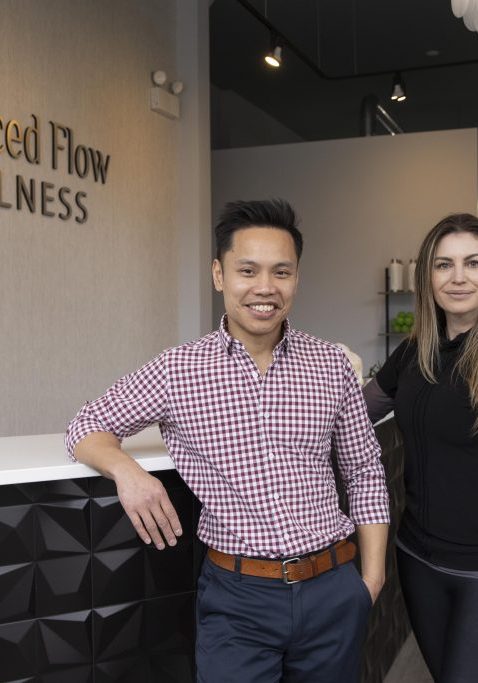 Balanced Flow Wellness is Chicago's premier medical wellness clinic located in the Bucktown neighborhood. Established in 2014, we have been on a mission to restore, elevate and maintain the health of our clients for almost a decade. Always evolving, we use the most advanced natural therapies and technologies to provide our clients with the extraordinary results they are seeking.
Balanced Flow prides itself on its level of service and commitment to our clients. We're here to truly learn about you and your goals and partner with you to ensure you achieve them. Whether you're seeking to restore and recover from what ails you or you're seeking to maximize how you function and feel, we are dedicated to get you there.